Small Wooden Birdhouse
Get ready for spring with some new birdhouses for the yard.
Low cost: order several. Give as a Spring gift to your birdloving friends.
Handmade in south central Indiana of rough-cut unfinished white pine.
Hinged roof for easy annual cleaning.
Vented opening at eaves of roof for proper ventillation.
Inside dimensions 5 x 5 x 5 inches.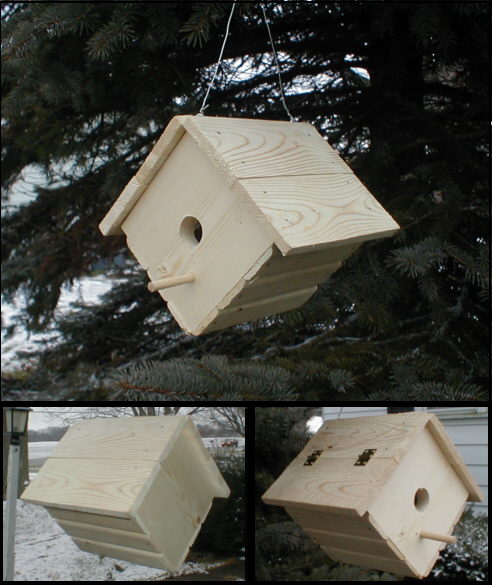 This birdhouse is suitable for small to medium sized birds. The sample used for the photograph has a one inch hole. The birdhouses for sale are without the hole drilled, and I will drill whatever size round hole you specify in your order. If you don't specify a size I will ship your birdhouse(s) with a 1 inch hole.
Some suggested hole sizes:
| | |
| --- | --- |
| Bluebird | 1-1/2" |
| Chickadee | 1-1/8" |
| Nuthatch | 1-1/4" |
| Wren | 1" |
| Titmouse | 1-1/4" |
| Swallow | 1-1/2" |
These birdhouses are unfinished, you can paint or varnish them, or use them in their natural state.

Purchase your birdhouse now using PayPal. $14.00 shipping included.

Or send $14, which includes shipping and handling to:

P.O. Box 932
Franklin, IN 46131